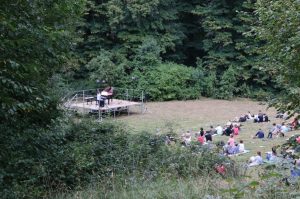 A dreamy open-air location surrounded by majestic lime trees will host the recital "Lento trascolorare", with music by Giancarlo Cardini, Caterina Venturelli, Tan Dun, John Cage and Giacinto Scelsi.
First planned on a very special day, the 8th of August (see G.Scelsi, 5 Jan 1905 – 8 Aug 1988), then moved to the 22nd to… follow the sun.
An ideal place to resound in quietness.