Spring is blooming and brings a brand new recording! "Subtle Matters" will be released by American label Neuma Records on April, 16th.
It features compositions by Lucia Dlugoszewski, Philip Corner and Tan Dun.
Dlugoszewski, pioneer in experimental musical scene, is the inventor of "timbre piano" and Corner, internationally known as a composer, musician and artist, is co-founder of Fluxus movement. Almost all the pieces are played with extended techniques in the inside of the instrument.  
The album will be welcomed on Monday, 29th March by Alley Stoughton's show "Not Brahms and Liszt" for Cambridge MIT WMBR Radio. You can also listen to the very first track here on Bandcamp.
To know part of the (adventurous) story behind the recording you can read the booklet here (Italian version in pdf here.)
To purchase the album: physical copy on Bandcamp or digital download here (from April, 16th).
"One of those people that doesn't just play the piano, she plays the piano going beyond just hitting the keys and even bringing toys into the arena. An experimental work that doesn't feel like it's just pulled out of the air on a whim, this is less a recital than a journey inhabited by stops and starts, twists and turns. Often becoming head music for cosmic experiences, if you start with Varese and go from there, this might just be the musical comfort food you want on your plate."
Chris Spector, March 15th, 2021, Midwest Record
"A wonderful album of modern piano landscapes, all gorgeous and unusual in their own voices. A sonic journey / exploration of dynamic acoustic atmospheres."
Collin J Rae, March 30th, 2021

"Pianist Agnese Toniutti has a bracing, incisively performed new recording, 'Subtle Matters', on the Neuma label, featuring pieces by three composers. Lucia Dlugoszewski's 'Exacerbated Subtlety Concert (Why Does a Woman Love a Man?' is a rigorous, four-part exploration of the piano's interior. There's a lovely, jagged but dreamy work by Tan Dun, 'C-A-G-E fingering for piano' and four wonderful compositions by the always inspiring and challenging Philip Corner. Excellent work, do check it out."
Brian Olewnick, April 1st, 2021

"A very original cd […] by the talented pianist Agnese Toniutti, which presents a courageous choice of authors out of any commercial homologation: Lucia Dlugoszewski (1925-2000), Tan Dun (1957) and Philip Corner (1933). Sounds and peculiar paths that open not only to musical perspectives but also to existential ones. Congratulations for this choice and for the excellent interpretation that demonstrates how much Agnese Toniutti is convincingly inside this music which is also a different interpretation from the usual repertoire."
Renzo Cresti, April 10th, 2021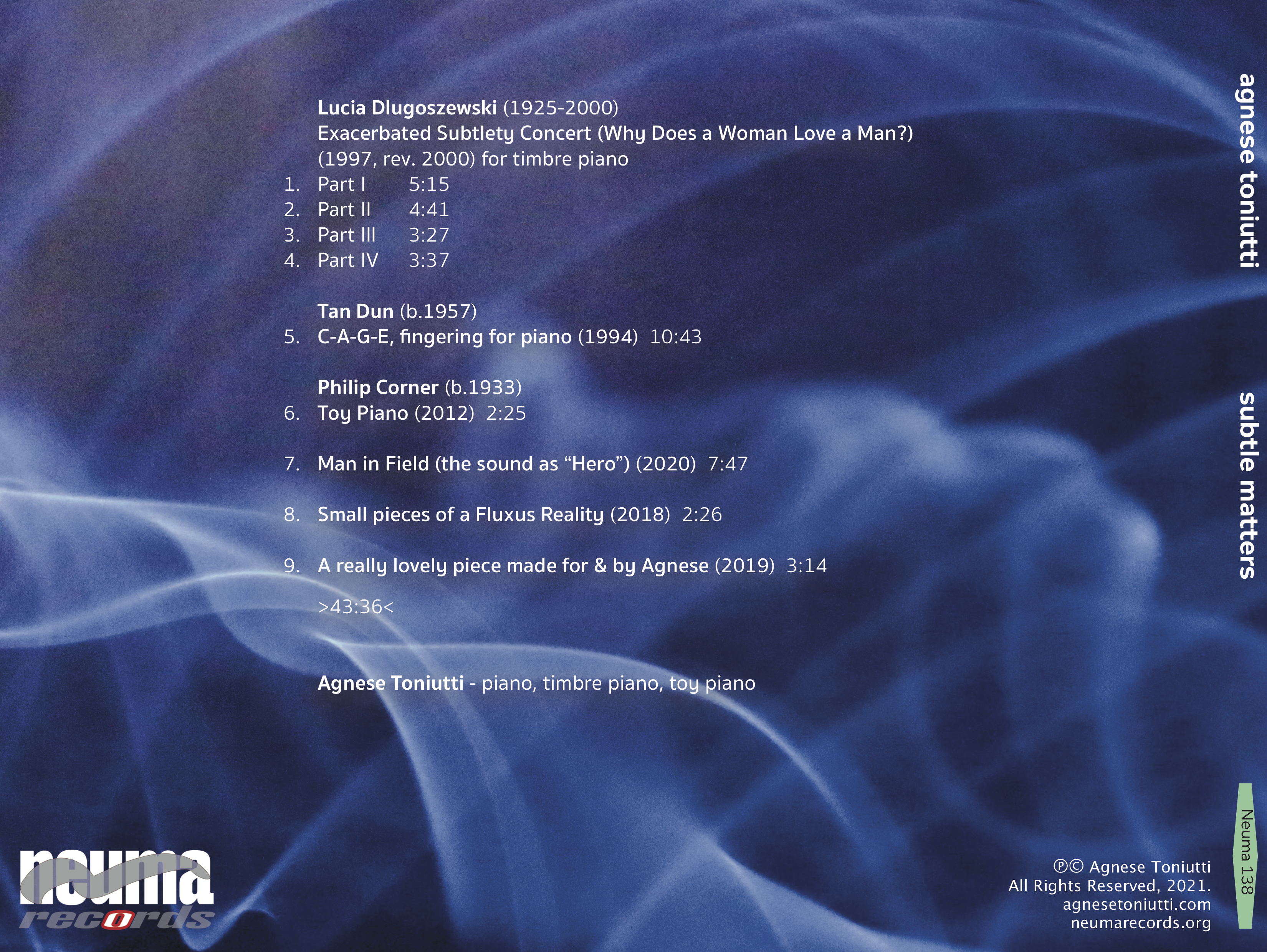 A brief extract from Dlugoszewski's Exacerbated Subtlety Concert  – Part IV for "timbre piano", performed at Angelica Festival, Bologna (IT), on Sept 18th, 2020 (European premiere).