This month a couple of news related in some way to the hot topic of the moment, Artificial Intelligence and its connection to the most human of human characteristics, art making.
Finally out the trailer of the multimedia installation The moon is full, but it is not the moon, which took place in Luxembourg last summer. Together with artists Gioj De Marco, Karolina Pernar and Andrej Mircev, we dreamt our dreams and fed an AI, interacting through and with it to build a collective dreamworld. This was the base for our artistic output that took the form of an immersive multimedia installation. Here you can have a taste of it:
This experience is still working in my mind; what AI means and can mean for our present and future… (no easy pronouncements on such a complex topic).
The invitation to this edition of the festival Udin&Jazz, titled "Jazz against the machine", was an other tile of the mosaic.
Having been asked to lead a concert for kids and families about contemporary/experimental music, I started reflecting upon the meaning of education, let's say about the ingredients of such a fundamental task in human society that is growing the next generation – a task we are delegating more and more to entities not always emotionally connected to our children.
I quote from the presentation:
Piano Maestro – How important is the role of the teacher in transmitting knowledge, in a humane society?
In times that constantly mention so-called artificial intelligence, it is good to weigh the value of "showing how it is done, by doing." A gesture that combines in-formation, care, passion, pleasure, meaning.
The masters of this concert do not go slow, in truth, ["piano" in Italian means also "slow", ed.] but they take great leaps and transform the piano into an instrument that is not yet there. Their students will go even further, making their own that look between the curious and the amazed that allows them to imagine, and realize, the world of their own desires.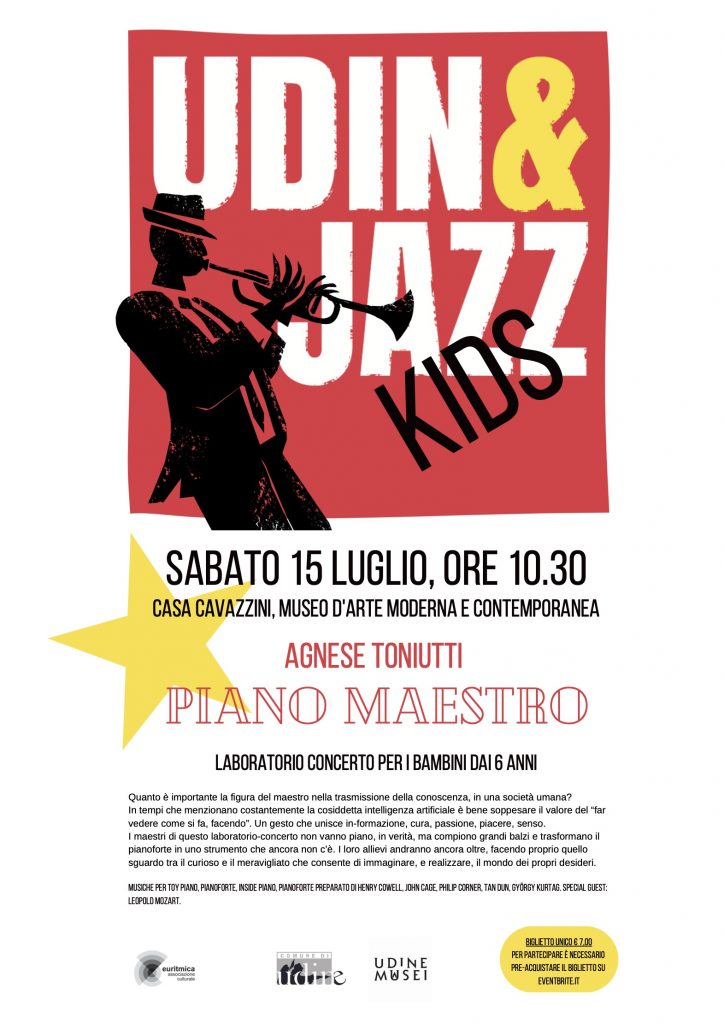 The music of Henry Cowell, John Cage, Philip Corner, Tan Dun, seemed to me a recognizable path of an attitude towards art and life that constitutes the real heritage from teacher to pupil. György Kurtág's Játékok is a lovely example of the reverse process: the blessing of learning at every age from every cue that life brings to us (and every teacher knows how much he learns from his students!). Leopold and Wolfgang Amadeus made a brief, courteous apparition among all this ordeal of strange sounds.
Looks like the kids enjoyed the performance, and the adults too.
Thanks to Francesca Tini Brunozzi and Angelo Salvin for the pics below.
pics@Angelo Salvin
pics@Francesca Tini Brunozzi